It's your special day, one of the most important in your life and of course you want everything to be perfect. Countless hours have been poured into planning from finding the most beautiful dress, the right location, speeches, flowers and the list goes on. The bridal party are looking sensational, the bride is the bell-of-the-ball and to complete this perfect picture you now have to select your special bridal fragrance for the day. In fact, the bridal party can be awash with fragrance from the bride and groom to the attendants and bridal party, and of course even the guests.
Now the challenge begins. Do you stick with your treasured favourite or make a bold new statement, do I use an EDP or an EDT, how much do I apply, do I need to take a bottle with me, what is he going to wear?
A wedding day fragrance should be remembered on the day and every anniversary after. It should express the most beautiful, nuanced, concentrated essence of yourself on that day. The Royals take this sentiment seriously: In 1853, Princess Eugénie de Montijo had Guerlain make Eau de Cologne Impériale especially for her wedding to French Emperor Napoléon III. Grace Kelly wore Creed's Fleurissimo, a scent commissioned by her betrothed, when she married Prince Rainier III of Monaco in 1956, and when the news finally broke about which fragrance Kate Middleton wore for her 2011 wedding to Prince William every bottle of her chosen scent—White Gardenia Petals by British brand Illuminum—flew off the shelves within minutes.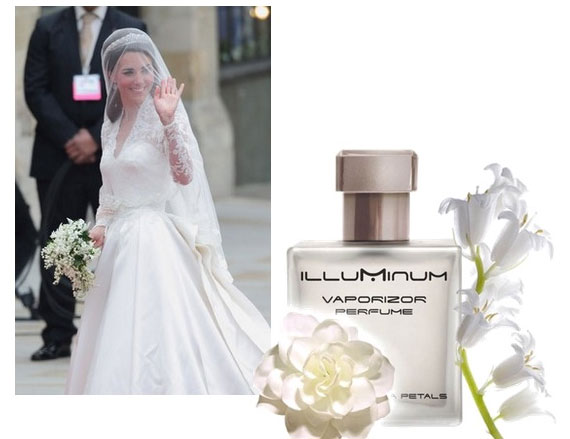 Perhaps you wore a special fragrance the day you met your husband-to-be and you want to stick with that or maybe you have a signature scent you always wear or perhaps a parent or friend has gifted you something special for the day. Does your wedding have a theme, is it beachy, casual and country, or maybe its uber-city chic? If you're getting married on a beach in the tropics the fragrance should reflect that mood and not fight against it and likewise, a sophisticated, sexy fragrance would perfectly compliment your evening cocktails or black-tie theme.
Please also remember you will likely be carrying a bouquet which may have a strong or distinct fragrance and your personal scent needs to work together with the bouquet. The florals you have chosen to carry may be represented in your favourite fragrance notes as well. If you have a strong scented bouquet consider applying your fragrance after the service or layering your body will be enough to carry you through to the reception, and allow your flowers to do the talking during the ceremony.
We have put together some helpful guidelines to assist you;
DON'T WANDER
When selecting your fragrance ensure you are being true to yourself and don't be shaken by celebrity, gimmicks, or trends. This is the start of a new phase in your life and your fragrance will be locked in your grooms olfactory ensuring memories of the day will be evoked whenever you wear that scent again. This is a snapshot of who you are and who you will be as a loving new wife, don't change too much, if you are trying something new, keep it in a similar family to what you like to wear already, don't go dark and musky if your normally light and floral.
KEEP CALM
The last thing you want to do is to wear a fragrance that is over powering or too intense. You need to make a statement but don't shout it out loud. Keep the application under control and don't wear too much fragrance. This is a day when you are at your most beautiful and feminine, best make your mark in an elegant way. Remember, some people also react to fragrance and you don't want to be overbearing while you are socialising with your guests.
MAKE IT LAST
Wearing more doesn't mean it will last longer. Layering is the key to maintaining your fragrance over what is going to be a very long day. Start with a scented shower or bath gel followed by moisturising body cream, or lotion to create a base. Then add the fragrance and remember to carry a small spray in your purse or with your attendant for light touch ups and create a lasting, lingering, and gentle statement. Apply your fragrance on your wrists, the back of your neck, and knees for added dimension.
MANPOWER
Don't forget your other half on this special day. He too needs to make a statement and create memories, but importantly he needs to work in harmony with your fragrance. Ensure your two scents work together and don't battle for attention. Try and keep your fragrances in the same family.
GET THE GIRLS IN ON THE ACT
Of course it goes without saying your bridesmaids will be working with you on every aspect of this day, and will no doubt have shared their opinion on your fragrance. Make sure they remember it's YOUR day and they need to moderate what they are wearing to maintain attention and focus is on you. All the rules apply to them too, keep it light, keep it layered, and importantly keep it complimentary to your fragrance.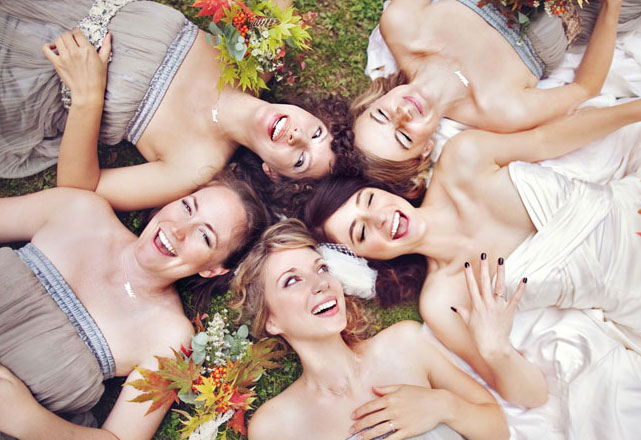 KEEP IT MUM
Don't forget your mother on this special day. While she is seeing her daughter leave her nest, sharing the same fragrance or a complimentary scent will give her another bond on the day and will allow her to remain close to you always.
SHARE THE LOVE
Share the love with your guests by supplying a selection of products in the restrooms at your venue. Scented soaps, hand creams, body creams and an EDP spray fragrance for refreshing throughout the proceedings is a delightful way to share your theme with your guests. Your guests will be surprised and delighted with the extra thought you have put into their day.
Popular wedding day fragrances for Women & Men include:
Finally, remember your wedding day will be gone in a blurry haze of love, smiles, kisses and celebration. It will be a complex, romantic scent memory: of the stone stairs of the church, the fresh cut lawn, or the salty sea. Don't forget to use your fragrance to create a cherished bouquet that you both will never forget.