FOR HER - BAISER FOU BY CARTIER
Author: PERFUMERY Date Posted:25 February 2019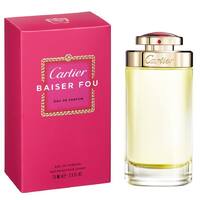 Ladies who wear Shalimar EDP by Guerlain, Bvlgari Pour Femme by Bvlgari or Mon Guerlain by Guerlain should enjoy this fragrance.

Baiser Vole Fou debuted in early 2017 by Cartier as a member of the Baiser Vole, or "Stolen Kiss" collection . Meant to evoke images of flirtatious lipstick kisses.

Baiser Vou was designed with sensuous orchid as a middle note. Orchid, a fragrance reminiscent of lipstick, summons imagery of desire and beauty. This strong aroma is carried by coy base notes of white chocolate and vanilla. Raspberry lingers as a top note, giving this sweet fragrance a taste of candy kisses.

Between passion and playfulness is where you'll find Cartier Baiser Fou and you can also find it at Perfumery NOW.